External engagement
Building strong partnerships within Australia and internationally to drive investment and deliver job growth, bringing benefits to industry and society
The Australian economy is undergoing a digital transformation, driven by huge investments in areas such as artificial intelligence, robotics and cybersecurity across a wide range of sectors, from aerospace to mining. Sydney is home to more than a dozen multi-billion dollar companies and a large and exciting ecosystem of subject matter experts and promising start-ups. Opportunities in digital cities, digital health, digital industries and digital societies offer the potential to build a range of new businesses and industries centred in Sydney and NSW, create hundreds of thousands of high-value jobs and contribute to a growing digital prosperity.
The Digital Sciences Initiative is a major attractor and deliverer of research and skills to drive the digital aspirations of industry and government. The University already engages at scale with digital companies, industries undergoing digital transformation and government agencies, together attracting over $20 million in research funding in 2018.
Industry and government engagement
The Initiative is a vehicle to attract major federally-funded Centres of Excellence, Cooperative Research Centres, and will increase the number of major industry-supported research centres with opportunities to collaborate with the Initiative.
The Initiative enables vibrant research and development collaborations between researchers and industry to produce transformative digital technologies and solutions and aims to:
Leverage increased industry funding for digital technologies to

$60m a year

by 2030
Research partner of choice in digital transformation of government and industry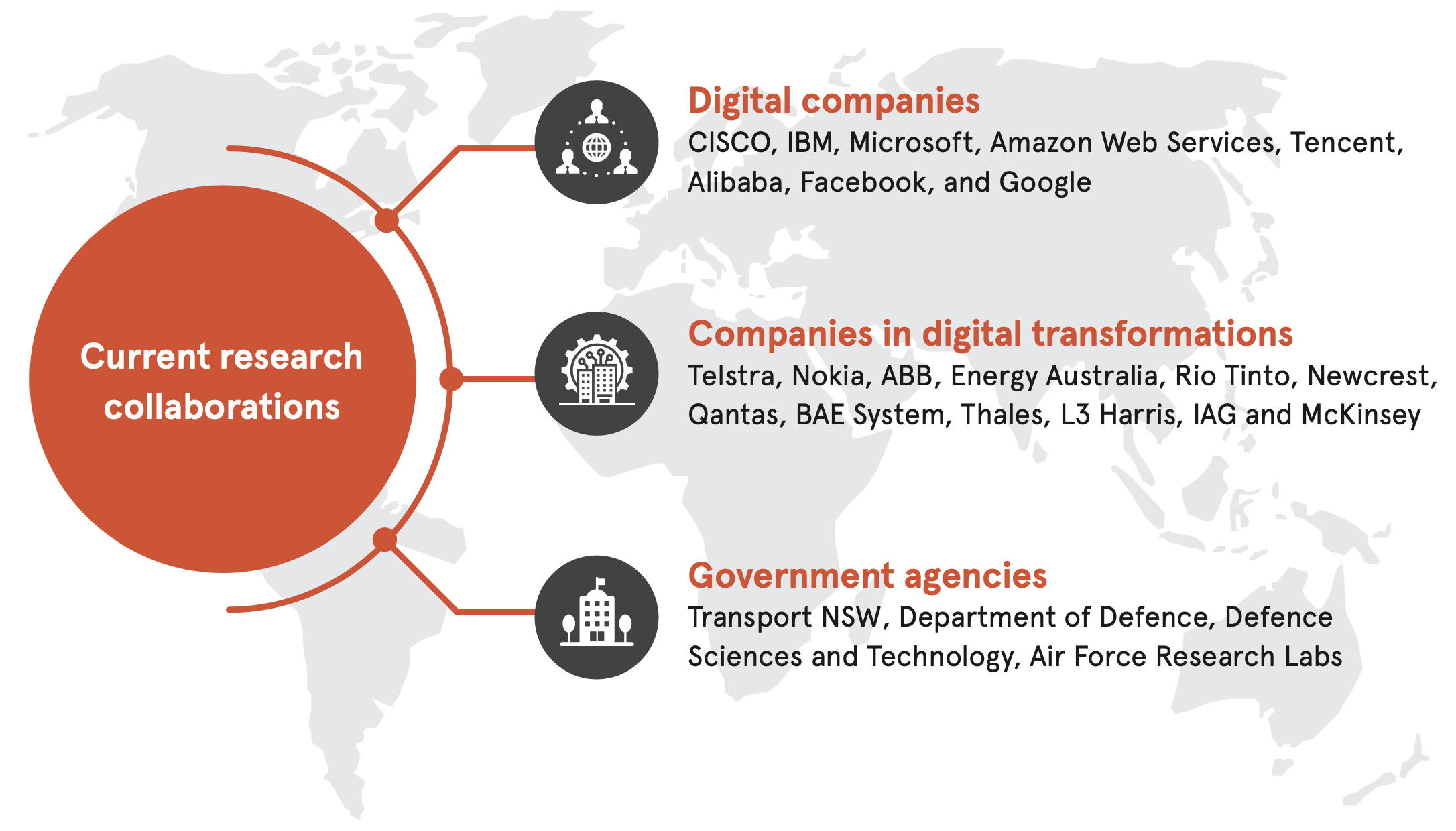 Global engagement
The Initiative develops international partnerships in both research and education by leveraging on linkages from its renowned, multi-national researcher pool to access the international research and higher education community. The international reputation of the Initiative will grow rapidly, with international partnerships affording the opportunity for cross-fertilisation of ideas and short-term exchange of research personnel.
Within Australia, the Initiative will partner with other universities as well as industry in large collaborative research projects that benefit Australian industry and society. Educational partnerships will also be established to benefit all Australian students by giving them exposure to other high-quality educational institutions.