Translating excellence in engineering research and training into strategic defence advantage for Australia and its allies.
We are strongly committed to working with our Defence partners in industry and government to ensure the safety and prosperity of Australia. Defence technologies are advancing at an enormous rate, and it is critical to ensure that technologies, processes and tools remain ahead of the state-of-the-art to prevent technological surprise. Through our many partnerships, our world-class researchers are leading fundamental and applied research programs across a broad range of disciplines, including:
Advanced sensors and photonics
Computer engineering
Networks, communications, cyber
Robotics and machine learning
Computational design and engineering
Materials design and modelling
Medical devices and technology
Each of these areas has a substantial track record of existing and past projects which have delivered tangible outcomes for our research partners – in most cases unique and exciting sovereign capabilities.
Leading research groups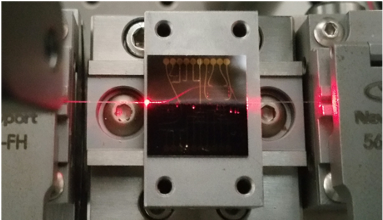 Our advanced sensors and photonics portfolio includes: The photonic engineering group has unique capabilities in the development of nanophotonic circuits for sensing and signal processing, from wafer to device to prototype. Our Computing and Audio Research Laboratory specialises in sound event detection, recognition and localization, both in air and underwater with capabilities in compressed sensing and …
Core research team
Advanced sensors and photonics
Computer engineering
Networks, communications, cyber
Robotics and machine learning
Computational design and engineering
Materials design and modelling
Medical devices and technology
Presentations
6/5/21 Prof Xiaoke Yi "Nanophotonic sensors for Defence"
20/5/21 Dr Suranga Seneviratne "Cybersecurity in an AI-driven Digital Society"
3/6/21 A/Prof Ben Thornber "Computational Aerodynamics in Defence Applications"
17/6/21 Prof Hugh Durrant-Whyte "Transforming Defence"
1/7/21 A/Prof Dries Verstraete "Drone-on-Demand: Next Gen Drone Solutions for Defence"
15/7/21 Dr David Boland "Opportunities for Hardware Accelerators in Defence Applications"
29/7/21 Prof Ania Paradowska "Application of neutron based techniques to defence sector"
12/8/21 Dr Gilad Francis "Decision-making under Uncertainty"
26/8/21 Prof Stefan Williams "DSI-Defence Remote Underwater Surveillance Capabilities"
09/09/21 Dr. Andre Kyme, "Opportunities for Biomedical Engineering Research"
23/9/21 Dr Sam Davey STaR Shot Lead, "Remote Undersea Surveillance"
07/10/21 Prof Julie Cairney "Materials characterisation for defence"
17/11/21 Maurice Amzallag, 'Digital Engineering', Thales Australia